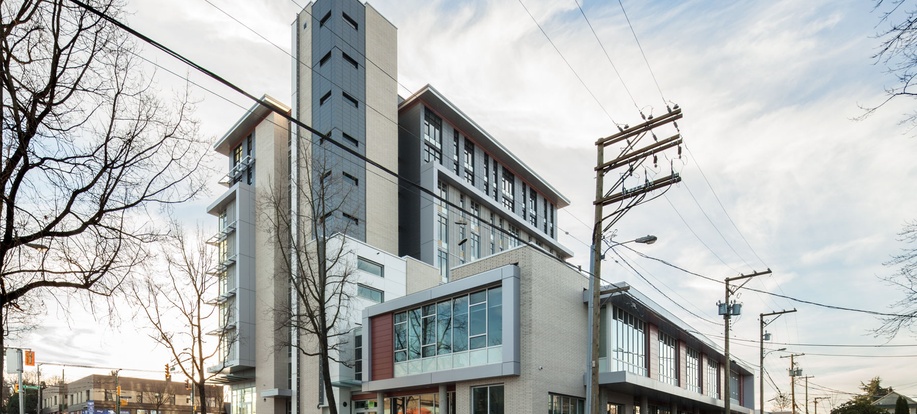 Kwayatsut - 675 East Broadway
Certifications & Awards
LEED Canada for New Construction and Major Renovations (registered)
Project Team
Environmental Engineer

: SNC Lavalin

Building Science Professional

: EXP Services

Geotechnical Engineer

: Horizon Engineering Inc.

Commissioning Authority

: C.E.S. Engineering Ltd.

Contractor

: Darwin Construction (Canada) Ltd.

Sustainability Coordinator

: Blue Camas Consulting Ltd

Landscape Architect

: Perry + Associates

Civil Engineer

: CJ Anderson Civil Engineering

Electrical Engineer

: MMM Group Limited

Energy Modeller

: MMM Group Limited

Mechanical Engineer

: MMM Group Limited

Structural Engineer

: Fast + Epp Structural Engineers

Architect

: Neale Staniszkis Doll Adams (NSDA) Architects

Development Manager

: Terra Housing

Funding

: BC Housing

Owner

: Vancouver Native Housing Society
Green Building Audio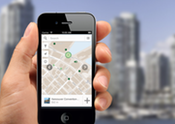 Targeting LEED Green Education Credit?
Our audio tours qualify.
Get one today!
style="font-size: 12px;">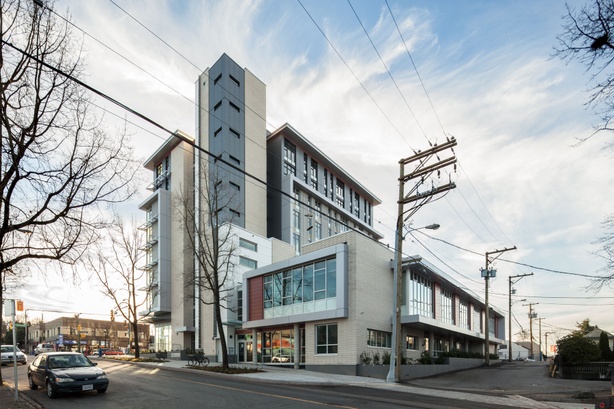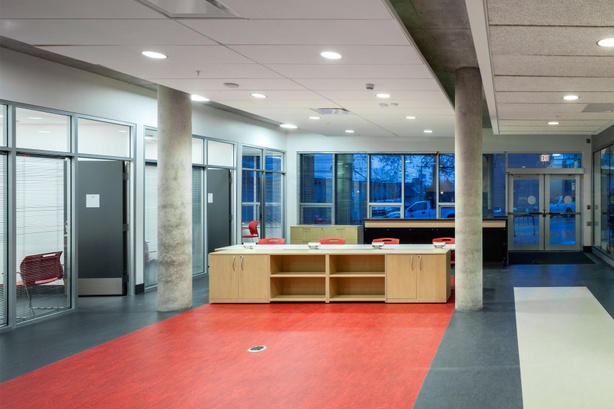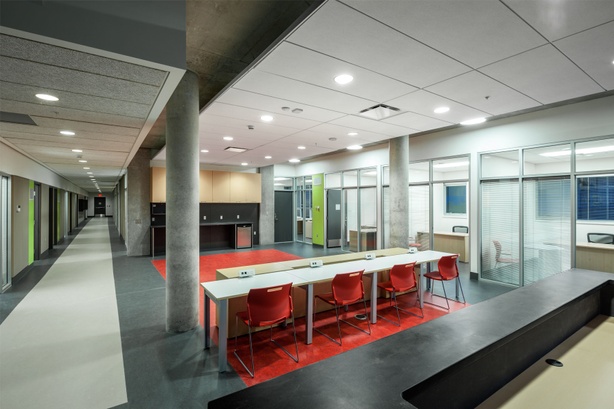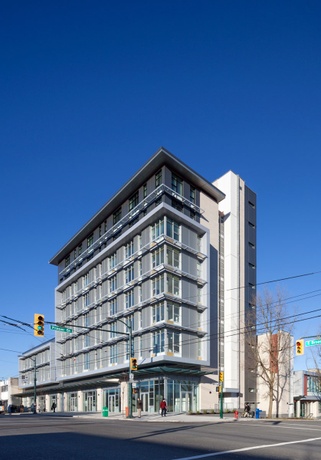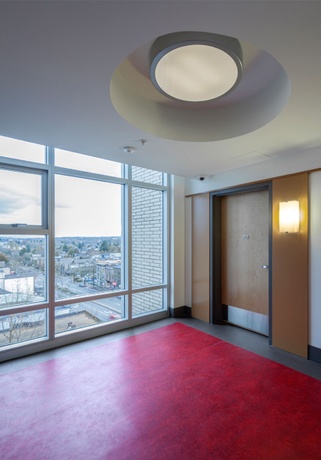 Kwayatsut House - Larry Adams, NSDA Architects and Shelly Hill, Vancouver Native Housing Society
Summary
Kwayatsut is a multi-unit social housing development with ancillary support services and amenity spaces supporting youth at risk, combined with secondary use, commercial leased spaces. Constructed as part of BC Housing's Provincial Homelessness Initiative (PHI) program. PHI was developed to provide long-term housing in the form of compact self-contained residential suites to help people who are homeless or at risk of homelessness move toward more secure housing, gain greater self-reliance, and achieve appropriate employment.
The project is pursuing a Gold certification in Leadership in Energy and Environmental Design (LEED) program and is a participating project in the BC Hydro Power Smart New Construction Program.
Located at 675-691 East Broadway in Vancouver, BC, Kwayatsut is an 8,112 square meter mixed-use building comprised of a two-storey commercial base with six storeys of residential units above, with an aggregate building form of eight storeys facing East Broadway. The project contains 99 units for low-income tenants, with 4 double units, and 30 suites reserved for youth at risk of homelessness. Residential amenity areas and outdoor spaces have been provided on the 3rd and 5th levels, with large planters for urban agriculture on the 5th floor.
The project programming consists of subsidized rental housing with support services, a new Broadway Youth Resource Centre (BYRC) by the Pacific Community Resource service as well as a commercial/retail area. The project is owned and operated by the Vancouver Native Housing Society (VNHS), who provides tenants with a range of services. Programming run by BYRC takes place in the classrooms, art rooms and meeting rooms, on the first two levels and includes an integrated one-stop center to provide a seamless continuum of community-based social and health services to at-risk youth, ages 12 to 24.
Building highlights:
Amenity-rich and walkable development area
EnergyStar in-suite appliances
Geothermal System, Heat Pumps and Heat Recovery Ventilation for superior efficiency
Durable and highly insulated building envelope
Approximately 316.7 tons of CO2 saved annually (based on Environment Canada's GHG Inventory Data, 1990-2002)
Deconstruction of existing building and Construction Waste reduction practices to address landfill impact
Over 60% energy savings compared to the Model National Energy Code for Buildings (MNECB)
Reduced interior and exterior lighting power density
Sustainable Sites
The project is located at a major intersection in the central neighbourhood of Mount Pleasant. The project is minutes away from local amenities such as grocery stores and parks, and has high access to transit and cycling infrastructure. Parking for the project is located underground, not only maximizing above ground space for building floor area, but also resulting in one less above-ground parking lot which would create a heat island effect and negatively impact urban microclimates.
Water Efficiency
The project reduced potable water consumption by specifying showerheads with 1.6 GPM (6 LPM), lavatory faucets use 0.75 GPM (2.8 LPM) and kitchen faucets at 1.5 GPM (5.7 LPM). Using low flow faucets and showerheads not only saves water but it also provides the added benefit of energy savings since it reduces the volume of domestic hot water needed.
Materials Deconstruction
With a pre-existing building on site run by the Broadway Youth Resource Centre (BYRC), the project was committed to deconstruction rather than demolition as a way to reduce environmental impact through sorting, recycling and salvaging building components. BYRC youth participants with previous experience in residential deconstruction gained employment opportunities through the deconstruction of the one-story building. Original doors and frames were salvaged and refurbished by young artist participants for re-installation in the new project.
Social Employment in the Trades
The contractor participated in the BladeRunners youth employment program to provide entry-level construction work experience and training for individuals who were employment disadvantaged. Individuals selected for placement became employees of the contractor and could be registered as apprentices if working in a trade area. Training allowances and ongoing support were also provided through Blade Runners, a mandatory program on all Provincial Homelessness Initiative projects.
Durability and Ease of Operations
It was important for the project to ensure all aspects of the building were easy to maintain to keep within long-term operating budget limitations. The use of linoleum flooring and radiant floor heating were two design decisions made early in the process to address low-maintenance durability. The project team worked to avoid specification of materials that could not be easily replaced or repaired. In the mechanical system, valves were given a clear schedule, with easy access and labelling for all shut off valves.
To improve the ease of operations in the building, building operator training sessions were hosted as well as video documentation, to cover all new equipment and systems. A Direct Digital Control (DDC) system was installed to allow full control of operation and monitoring for all mechanical equipment in one central location. 
In addition to controlling all HVAC and domestic hot water equipment, the DDC system provides continuous trend-logging of key measurements to monitor and assess building indoor air quality.
Building Envelope
The building was designed with durability in mind. A durability plan was created to ensure solid detail drawings showing proper assembly. The envelope was commissioned to ensure energy and performance integrity were both achieved, covering items such as proper drainage and ventilation of the building elements. Wall assemblies in the project were designed and specified to have high thermal resistance values and to prevent heat loss. The entire building envelope was designed with continuous insulation to prevent heat loss due to thermal bridging and airtightness to minimize infiltration. The project also prioritized a low window-to-wall ratio for greater heat loss prevention and energy efficiency.
Energy Efficiency and Passive Design Strategies
The building was designed to optimize an East-West building orientation, and to provide a large South-facing building area in a compact form. The design of the building with its separate six- and eight-storey tower forms was laid out in this way to minimize overshadowing the north-facing residential areas. The eastern and southern facing windows are protected with exterior shading, allowing the project to take advantage of winter solar gain for passive heating, while minimizing heat gain in the summer, reducing cooling needs.
North-facing glazing was optimized using clerestory windows and a roof monitor in order to provide natural lighting into the classrooms, reducing the electrical lighting needs.
Energy and Heating/Ventilation
The primary heating and cooling for the building is served by a central ground-source geothermal system. Located below the underground parkade slab, the system consists of 40 wells, with a total vertical length of approximately 16,000 feet. Using geothermal energy for heating and cooling can greatly reduce a project's carbon emissions and significantly reduce its impact on global warming.
The efficient geothermal heating and cooling plant serves distributed heat pumps and radiant slab in-floor heating in residential units, which have local thermostat controls. The system is connected to two heat pumps with Variable Speed Drives (VSD) with high coefficient of performance (COP), for added efficiency and lower operating costs.
Each of the 99 residential suites is equipped a Heat Recovery Ventilator (HRV), supplying 100% preheated outdoor air, and a heat-recovery wheel that reclaims or rejects heat from washroom exhaust. The suites do not have mechanical cooling but have been designed to create a cross-flow of natural ventilation through operable windows.
Retail and amenity spaces are supplied with 100% preheated outdoor air from HRVs on the on the first two levels, with heating and cooling provided by water-to-air heat pumps. In this area, a heat-recovery wheel is used to reclaim or reject heat from the public washrooms exhaust.
Energy and Efficient Lighting
Lighting systems on the project maximize energy conservation by using energy efficient technology and by conforming to ASHRAE 90.1-2007 standards. Ease of maintenance was also a priority for lighting. Highly efficient indirect fluorescent light sources were specified for the project, with electronic ballasts, and low voltage lighting control and dimming. Daylight sensors were integrated with the overall system design for additional energy savings. All major common rooms such as storage rooms, common washrooms, amenity area, kitchen, and offices are equipped with occupancy sensing lighting controls. 

Outside the building, perimeter and main entrance lighting includes compact fluorescent, metal halide and LED luminaires. Exterior lighting is controlled by photocell with time clock override, and manual override switch available for maintenance. 

Indoor Air Quality
In order to make the residential suites and programming areas feel like welcoming and healthy spaces, meeting industry standards in ventilation and thermal comfort (ASHRAE Standard 62.1-2004 and ASHRAE 55 – 2004) and providing interior spaces with natural daylight was key. To safeguard Indoor Air Quality for occupants, numerous conditions were upheld during construction to reduce and prevent indoor pollutants such as Volatile Organic Compounds, and particulates from residual construction debris.
The resulting sum of all of these measures is a bright and healthy building that is durable in construction and highly efficient in its use of energy throughout its operations.
Source: C.E.S. Engineering Ltd. and Blue Camas Consulting Ltd.